UPDATE: Queen Bee Creations closed its Portland retail location in 2020. You can still shop for Rebecca Pearcy's newest designs on her website, at rebeccapearcy.com.
Interview with Queen Bee Creations founder Rebecca Pearcy
Can you describe the first bag that you made? How old were you?
I'm not sure what the first bag was that I made, but I do have a few sweet hand-sewn or crafted items that my mom saved from when I was tiny. My favorite is a little fabric elephant that is just so beautiful in that handmade by a child way that is inimitable. I was probably 3 or 4 when I made it? I have loved making things with my hands for as long as I can remember and my mom really fostered that in me. She is a fine artist and did all kinds of crafts with me growing up. Things really took off when I learned how to sew on a machine and I started sewing my own clothing, both from store-bought patterns and improvising my own designs. While I like to make and sew all kinds of things, sewing clothing is my favorite, so I didn't start making the bags that led to Queen Bee until I was in my early 20's. I used funky materials like fake fur, shiny vinyl, upholstery velvets, and vintage / upcycled materials. One of my first bag designs was a mini backpack out of shiny vinyl with a Wonder Woman comic image laminated and sewn onto the front with clear vinyl.
Who is the typical Queen Bee customer? Is there one?
I think a lot of our customers are similar to me – they are in my age range (I'm 45) and are pretty practical, so they want something that is functional, that is good quality, that will last, and expresses their sense of style or individuality. And they are excited to support a woman-owned business that they can feel connected to and good about.
Have you ever gotten pushback for using faux materials like vinyl instead of leather? Or do you find that consumers embrace the trend?
No, not really. Occasionally someone will scoff at the non-leather material but leather & faux-leather are entirely different beasts (so to speak). People choose them for different reasons. We are known for working with vinyl, which we did for many years, but a number of years ago we stopped making our bags with vinyl and switched to using PVC free faux-leathers. We also work with a lot of waxed canvas and some leather for handles and straps (along with non-leather options). Leather is an amazing material, in terms of it's qualities and durability. Faux-leather is waterproof, a lot more affordable, and comes in lots of colors. It suits the rainy PNW active and non-fussy lifestyle well.
What inspired you to expand into screen printing?
In 1997, after I finished college in Washington, I went out to Philadelphia to do an apprenticeship at The Fabric Workshop. It totally changed my life – I felt like I had found something I really really loved. At the heart of my love of making is my love of fabrics. And at my apprenticeship I learned how to design patterns in repeat, make silkscreens of my designs, and print them in repeat on a 25 yard long table. It was so fun and satisfying to create my own fabric. Because of the space and equipment set up needed to do this type of printing, it took me a few years to get to the point where I could print my own fabric. That's when I launched the Rebecca Pearcy Textiles line. Currently we have a 23' long print table in our studio where we print all of our fabric. It's still my favorite part of what we do and I'm working on expanding it even more to include apparel and more housewares.
How many people do you employ in Portland?
I have eight wonderful employees! They are an awesome team that include 2 production sewists, 2 production workers (cutting, prepping, finishing), 2 retail folks, an operations manager, and a bookkeeper. This small but mighty team does it all. We do all the designing, sewing, printing, production, shipping, website management, retail store buying and selling, marketing, managing the workflow, and management of the business itself.
Describe the role that Portland has had on your business and brand. Do you believe the city is still a viable home for small and emerging businesses?
Portland has been a great place to run a handmade, creative, small business. People here "get it" — many choose to live here because there's so much going on in the creative / making realm and are stoked to support the businesses that make Portland, Portland. From attending college at Evergreen, to living and starting Queen Bee in Olympia, WA, to relocating to Portland in 2002, I have always thrived on the hotbed of creativity in the Pacific Northwest. But the way the city is changing and developing rapidly could pose a threat to businesses like mine being able to continue thriving. So that is cause for concern. Part of what made Portland so relatively easy was affordability, for space, for homes. If I was just opening my business right now and looking for space to operate out of, I'd be hard pressed. I hope that the city can preserve and value it's artisans that bring people from all over the world so we can keep trucking on and keep making Portland a truly special place that offers diversity, variety, and beauty that you can't find just anywhere.
Do you have a favorite handbag?
My current fave products of ours that I use the most are:
The Ramona Tote
The Becca Backpack
The Hip Holster
What designers and artists have influenced your work?
I'm a huge fan of Marimekko, for their amazing and colorful print designs, as well as Vera Neumann. And I love lots of Japanese fashion, design, and textiles. I admire Frietag for their business model of making one-of-a-kind bags from up cycled truck tarps – they were an early leader in this. I adore Bonnie Cashin bag designs from the 60's / 70's.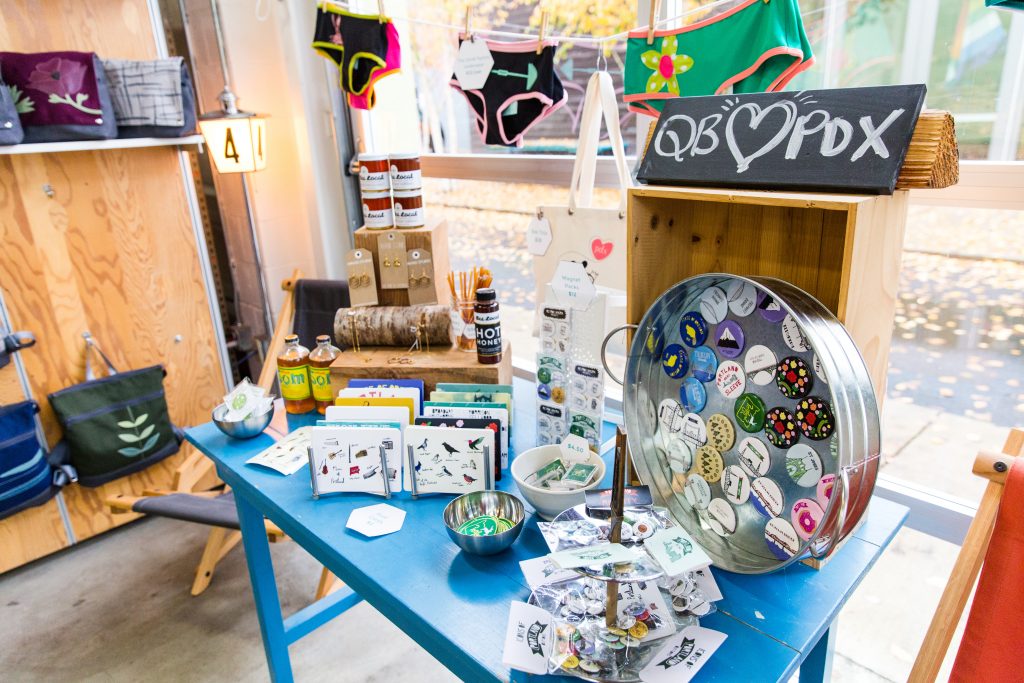 Queen Bee Creations, 3961 N Williams Street