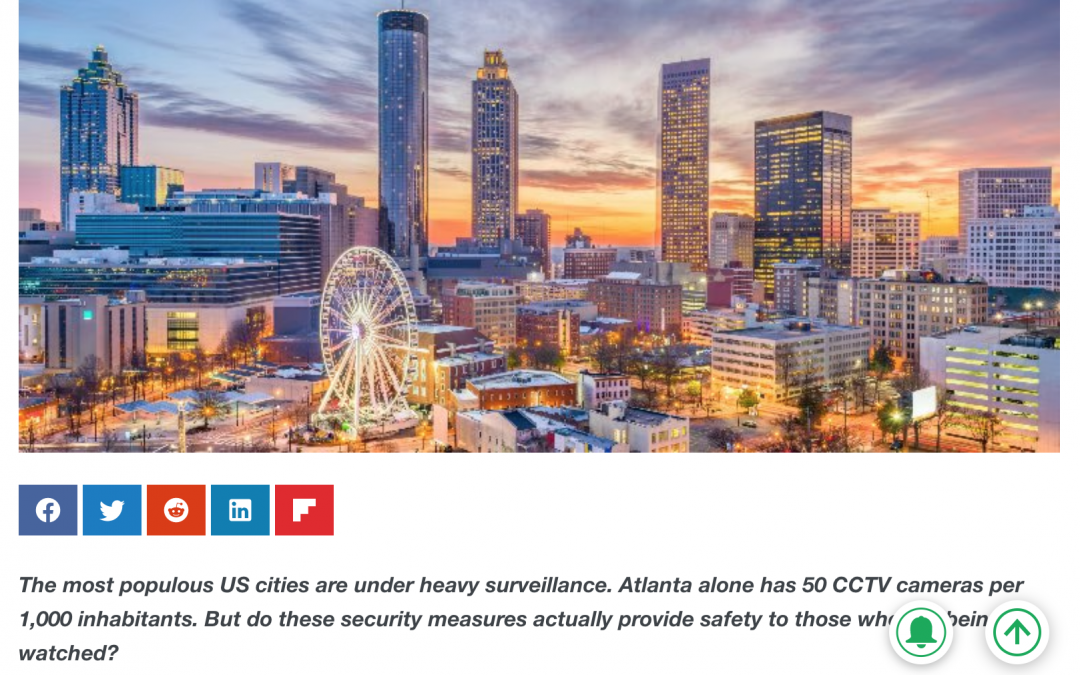 Surviving the Surveillance State
December 4, 2022
by Rose C.
Portland ranks among the Top 10 Most Surveilled U.S. Cities, according to Cybernews. Atlanta tops the list.
We live in a world where surveillance is a fact of life. Any encrypted software product may be backdoored, and even if it is not, you have no guarantee that the person on the other end does not have spyware such as keystroke monitoring or screen video capture running on their system. Encryption enthusiasts and amateur hackers, no matter how valiant, simply cannot compete with a nation-state in this game. Cf Pegasus.
Sneak and Peek, or "No Knock," Warrants have been around since the Patriot Act was passed in 2001, but they receive scant attention from the media. What they mean is that you may have your home searched, and items removed from your home, without any official notice from law enforcement. Ditto for electronic files. If you file a FOIA request and the investigation in which you are named is still ongoing, you will not receive any confirmation that a warrant exists. (Pat Eddington, Cato Institute)
The most frightening aspect of these warrants is the potential for planting false evidence. The second most frightening aspect is the potential for planting surveillance devices for tracking and listening — as if cell phones were not effective enough.
"Nothing to Hide?"
Like roughly 2/3 of the U.S. population, I reside within the 100-mile "border zone" where Border Patrol agents are granted additional authorities and the Constitutional protections of the Fourth Amendment no longer apply. You may think all of this is irrelevant if you are a law-abiding citizen.
The problem is that who you know can get you put on a list. It can also make you a target. To put it another way, we all know somebody who has a cousin who is a drug dealer.
Laws in this country are changing, and not (in my opinion) for the better. Roe v. Wade is gone, and civil rights for gays and lesbians may soon disappear as this country takes a hard shift right. Remember ICE? Children in cages? Forced sterilizations?
Come 2024, they may all be back.
If you don't feel like being a freedom fighter, if your first priority is keeping your family safe and saving for your children's college tuition, I am not here to judge. Just remember that in a world where power rules in place of law, abuse of that power is an inevitable consequence.
Get in a traffic accident with somebody employed by the surveillance state? What if one of them rapes your daughter? Or your son? When a large class of individuals are above the law, nothing good will come of it. This is especially true when the same individuals fear consequences from their actions. They tend to lash out and do everything they can to harm and intimidate witnesses and injured parties.
I am not an America-hater. Far from it. The country I grew up in gave me 40+ years of freedom in its purest form: freedom to explore, to create, to love and befriend those I chose, to work as much or as little as I liked. Freedom to just be. I am a GenXer. I don't mean to talk like a crusty old-timer, but I believe I've seen this nation at its absolute best.
Or maybe the best is yet to come.
Nothing is fixed. Nothing is certain.
The combined 2022 budget of Homeland Security, the Department of Justice, and the 17 different United States spying agencies (of which CIA and NSA are only two) is over $150 billion. For comparison, that is roughly one fifth of the Department of Defense 2022 budget of $742B. But remember, the DOD budget covers submarines, fighter jets, aircraft carriers, helicopters, tanks, nuclear weapons, and anti-missile defense systems, not to mention an active network of bases around the world. That's a lot of people and hardware.
What exactly are we paying for? This remains largely unclear. Marijuana is now legal in 19 out of 50 states, but the DEA's funding continues to grow. If you were an officer monitoring wiretaps and running undercover operations in Colorado or Washington State, where and to what were you reassigned? And as far as truly terrifying threats to health and safety, the surveillance state could be doing a much better job. We read about mass shootings in the news practically every week. It failed to prevent the violent attempted coup at our nation's capitol on January 6, 2021. 
Your tax dollars at work, my friends.
Government salaries range from $20K (GS-1) to $147K(GS-15) — much less than the equivalent in the private sector. If we assume that wages (including benefits) average $100,000 per year, we would expect that the surveillance states employs as many as 1.5 million people in the United States. Keeping in mind, that is not accounting for slush funds to be distributed overseas, or James Bond style gadgetry, server space, or the cost of buildings and operations. But if we slash that number in half, that is still one federal domestic spy for every 440 U.S. citizens.
And that's a lot.

Regarding terminology, "federal domestic spy" includes FBI informers, often recruited under duress or experiencing economic hardship. It does not include state or local police forces.
I am an extremely law-abiding citizen. That has protected me to some extent, but not completely. Somebody who has cheated on their taxes or who runs a warez server with their friends is at high risk of being "turned" and pressured by law enforcement to inform on others and further widen the surveillance network.
If you wish to minimize the risk that a conversation will be overheard, consider the New Yorker Protocol.
The New Yorker protocol consists of three simple steps:
Assume good intent. I am not interested in contact with people for purposes of criminal profiteering (drugs or other contraband) or with groups that instigate violence. My philosophy is nonviolence except in the case of self-defense. I am only interested in working with people who share these values.



Confirm receipt as soon as possible.

If somebody emails you asking to meet for coffee, say, "Hey, I got your email. Swamped right now! Will be back in touch to coordinate a time." If somebody you know leaves a signed, sealed note taped to your front door with instructions to communicate only by dropping messages in yonder hollow tree, then by all means, drop them a note asking, "Did I get the right tree?"


Allow up to 90 days when making a major decision. Depending on the stakes involved, this might be anything from agreeing to meet somebody for the first time for coffee to participating in civil disobedience or leaking a story to the news media. If you feel certain of your course of action sooner than that, of course it is ok to let the other person know. Likewise, if you know you are not down for whatever the person is asking, don't feel that you need to respond at all. The basic courtesy of acknowledging receipt (Step 2) is enough.
Two of these three steps come directly from the New Yorker writer's guidelines for submitting unsolicited short fiction manuscripts. I was so taken with these guidelines (in particular, their clarity and brevity) that I submitted a short story almost on the spot. I don't expect that it will get published, but I do appreciate that 90 days after sending it in I am free to re-submit wherever I like. I also appreciate that immediately after emailing my story as an attachment, I received an auto-responder email acknowledging receipt.
The New Yorker protocol should by no means be restricted to clandestine activities. I consider it an effective strategy for social and business networking as well.
Creating an expectation to observe and respect these simple guidelines is an essential first step to initiate an effective communications process that is platform- and technology-independent and minimizes surveillance risk.

This work is licensed under a Creative Commons Attribution-NoDerivatives 4.0 International License.