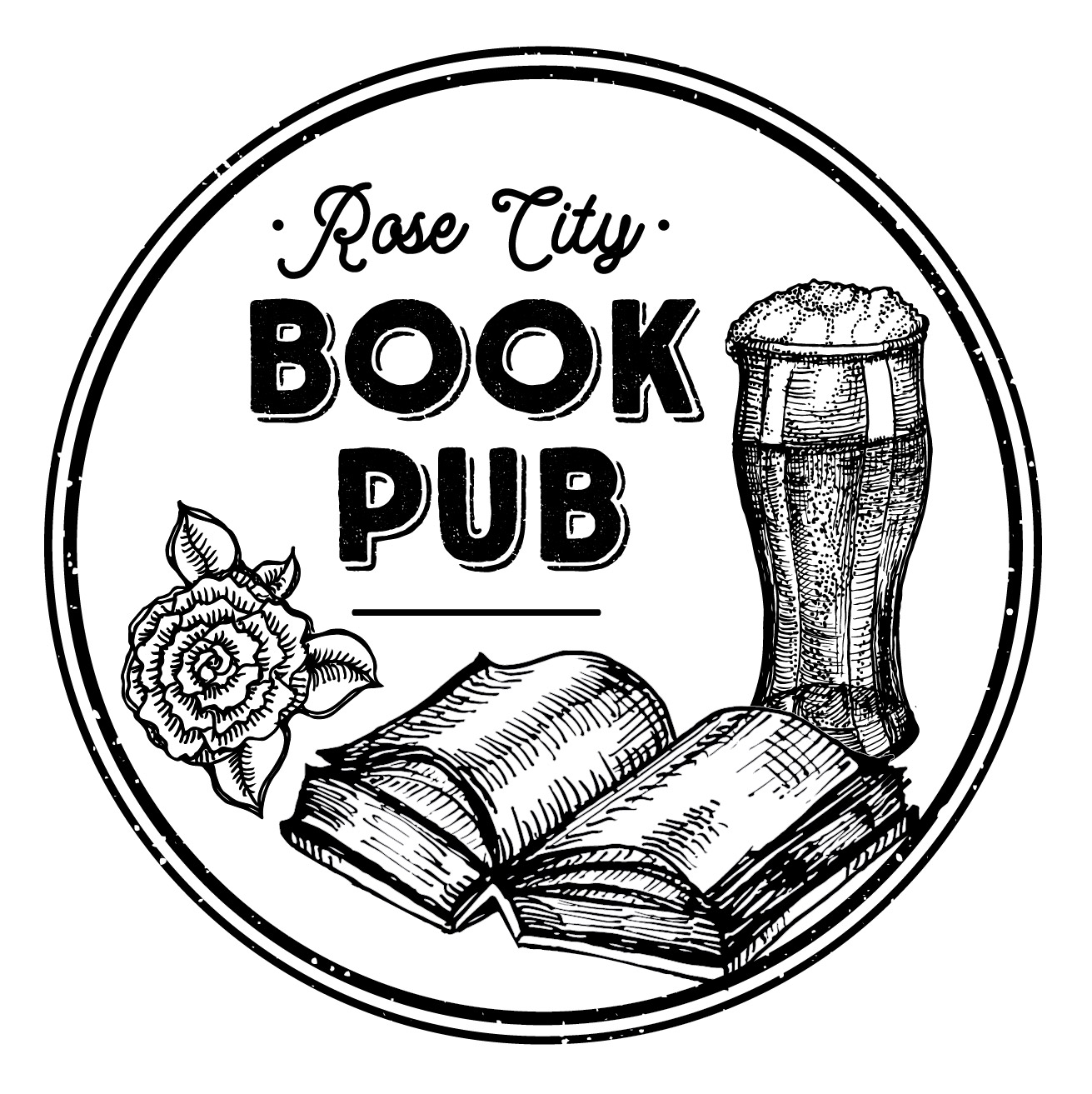 Interview with owner Elise Shumock
What was your inspiration for the book pub?
A couple of friends had dreamed it up as a pipe dream, and it sounded like something I could actually do. I was living in LA working as a private tutor and a Latin teacher, and I was looking for a way to get back home. In June 2015 I decided I could disentangle myself in June of 2018 without leaving anyone who was still depending on me, so I set that as my departure date and started planning how to get back home to Portland and open the Book Pub.
Are there any other book pubs like this — in Portland or the world?
For some reason, there wasn't already a book pub in Portland. A lot of people have been surprised that we hadn't done something like this already. Tugboat had a book theme, but it wasn't a bookstore. There are other book pubs around the country. A few that I looked at for reference were in New York, DC, and Denver. I've heard there are quite a few in Europe.
What is your favorite book or books?
That's a hard question. The book I return to every few years is Invisible Man by Ralph Ellison. I see something new in it every time I read it. The last few years I've been in love with Karl Ove Knausgaard. It's part of my fantasy about the Book Pub that Karl Ove will come for a reading and I can have a few drinks with him. I identify very closely with Simone de Beauvoir.
How does it work? Is it a buy or a browse experience?
The Book Pub is a combination bookstore and bar and restaurant. The books are for sale. People are also allowed to bring their own books in to read, and they're welcome to drink while they read books they haven't bought yet, but we will ask people not to eat while they read our books. I think most readers have enough love for books that it won't be a problem. I encourage people to buy a glass of wine or a pint of beer while they're browsing.
How did you choose the location?
I gave my realtor a few parameters, and this was the property that was on the market that fit my needs. My priority was to find a place on the east side closer in than 72nd because I think I'll have a local draw, but I also expect a citywide draw and so I didn't want to be too far out. The other biggest priority was to be wheelchair accessible. I got a lot of things from my wish list, too: a back patio, an old building, lots of wood, and lots of taps. It also happens to be a few blocks from where I went to elementary school at Sabin, so I'm really pleased to be in a neighborhood where I already have roots.
What will the menu (food and beverage) be like?
I have 24 taps! I'm using a few for drinks other than beer: kombucha, cider, cold press coffee on nitro. Otherwise, lots of NW craft brews. I'll have a house red and a house white as well as a rotating list of spendier wines. We're going to have a limited cocktail list of 5 signature cocktails at a time, rotating with the flavors of the seasons, all using local spirits and other local ingredients. Otherwise, we will do highballs (1 booze, 1 mixer) of anything we have.
We have a core fixed menu of bistro/cafe style food. Cheese plate, charcuterie plate, warm baguette with Himalayan pink salted butter, a pork shoulder dish, a quinoa bowl, and a few other items. We are going to have a small rotating menu of soups, salads, pastas, and desserts to make use of seasonal ingredients.
When does it open?
I'm aiming for a very soft opening on October 14th, which may or may not happen. If we don't make it by that day, it will be sometime soon after. We will definitely be open by November 3rd when I'm planning a Grand Opening Party 11 am until 2 am. I'm still working on the line up for that day, but lots of live music, a one-line joke open mic, a pinata, beer tastings, and a lot more.
I'm doing an Indiegogo to cover the costs of the built-in bookcases and the new bar top. It's all just pre-sales at the same prices the items will be after I open.
Rose City Book Pub, 1329 NE Fremont Street
rosecitybookpub.com