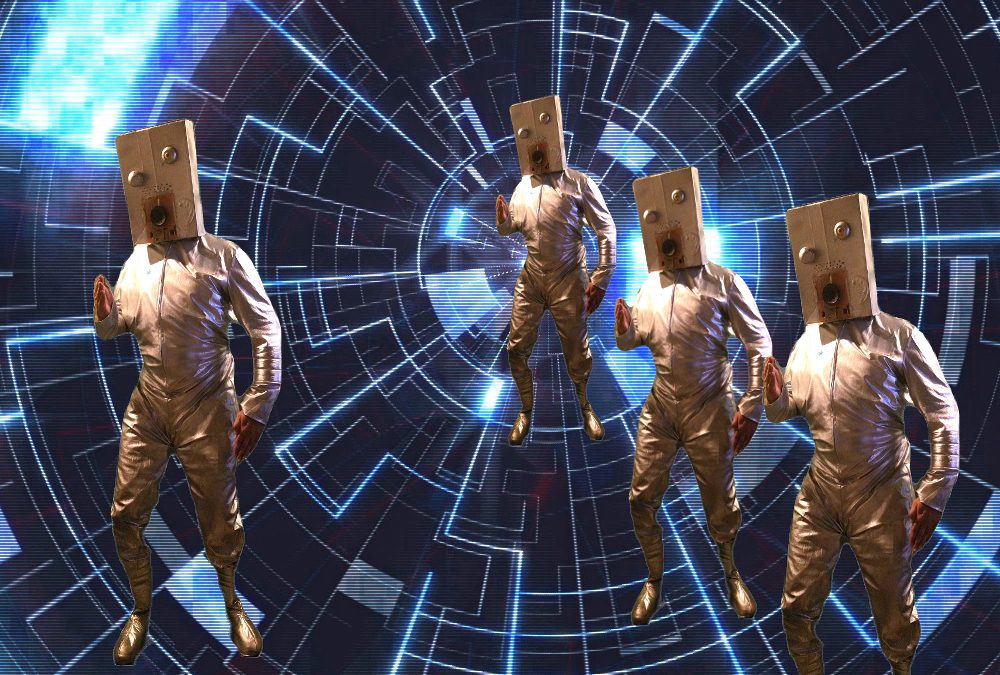 Your outfits are great. What gave you the inspiration?
Our spacesuits are just average clothes on our planet, Issia.
I felt that by sharing our customs, I could further inspire our listeners. Silver is transcendent!
And we've been heavily influenced by David Bowie, Bjork, T-Rex, Prince and Devo. Hence, outifts.??

How long have you been making music, and how would you describe your creative evolution?
I grew up going to a German Polka Club every week. So I was dancing to waltzes and polkas for most of my adolescence.  I didn't start to work fanatically with music until my thirties.
Jo, however, has been singing since the crib. Legend has it she learned how to escape her cradle so she could re-load the stack of records.
Our creative process usually starts with a pad or synth progression just to get things rolling. I send that to Jo and she creates a melodic and lyrical story based on the mood. We work together to shape it into a song often with at least 15 iterations until we get it right.

I noticed you list both a Priestess and Scientist on your website. Do you believe it is possible to harmonize spirituality and rational knowledge in our current era of information overload? Can music play a role?
Yes!  Music is a perfect example. There is a concept that science and spirituality are separate but in fact, they are the same.  Look at Kirk and Spock! ? Whether the technology is Bach or today's software, music inherently blends math and spirituality. To be more accurate, music IS the math of spirituality. On our planet, we're able to heal disease with music. It's a wondrous place!

What is the hardest thing about making music in quarantine?
There were so many challenges this year! Where to start…It was hard being separated from each other. I went from having weekly rehearsals to having to work remotely with The Priestess. We did lots of Zoom meetings. I think the limitations pushed us to grow our online fanbase and of course, we had to grow emotionally.

Your new single is called "I Won't Dance for You." Do you think music venues and dance clubs will be able to recover in Portland over the next year, or will it take longer for the scene to recover?
I love going to see live music and I so hope it recovers. Live music is so magical! Transformational. So I hope so and soooooon.  I love to watch the people dance! It's sad to see some of favorite venues closed. I'm still sad that La Luna and Satiricon closed. Some places are holding on like the Alberta Rose—and we can support them now. Here is the link: https://shopalbertarose.square.site

If you had to choose, would you rather share a rocket ship with Ziggy Stardust, Barbarella, or Sun Ra?