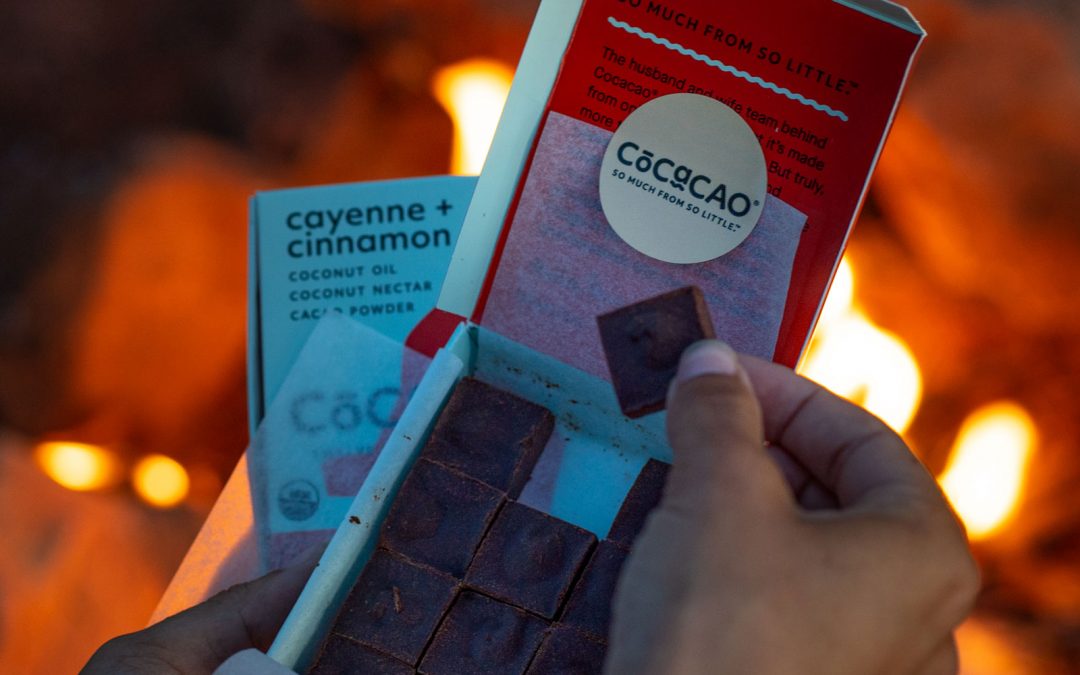 Can vegan chocolate ever be as good as the real thing?
So many people can't have dairy or follow a vegan diet. They don't want to settle for hard, bitter chocolate. You can still get great tasting chocolate with that creamy mouth feel and not have dairy in it. We use coconut oil for a silky-smooth mouth feel. You get that milk chocolate mouth feel without the dairy.
How do you ensure that your products are ethically and sustainable sourced?
We order from companies who source their ingredients from reputable sources. Our organic cacao powder comes from the Dominican Republic and other locations in South America. It costs more but it's worth it.
What are some of the health benefits of coconut oil? Why choose this over other dairy alternatives?
We chose coconut oil because of the truffle like texture it provides. It also a medium-chain triglyceride (MCT's). It helps keep you satiated or feeling full. This means that only a few pieces of Cocacao will satisfy a craving.
We are a refrigerated chocolate due to the coconut oil. We use only 3-5 ingredients in Cocacao and no stabilizers or preservatives. Due to the low melting point of coconut oil we need to be kept in the refrigerator. It doesn't go bad if it is left out, it only gets soft in a warmer environment. In stores you can find us in the refrigerated bakery, grab-n-go, or even by the dairy. Each store is different since refrigerated space is very limited.
I am always asked what do you do with Cocacao? YOU EAT IT! Cocacao is a decadent, delicious treat that is made from 3-5 simple ingredients, no refined sugar or dairy, silky-smooth texture, pre-portioned pieces, and will satisfy in small amounts. You can melt it in short bursts in the microwave (5-10 seconds), stir and pour over granola or ice cream (creates a magic shell). People will drop it in their coffee or smoothie. But really it is just a decadent dessert that everyone can enjoy, no matter what their diet looks like.
What is your favorite flavor?
My favorite flavor is our Blueberry. It has dried organic blueberries from Oregon in it. I love the chew of the fruit in it. The Hazelnut and Sea Salt is the most popular flavor. If you enjoy an after-dinner mint, then our Mint flavor is for you. It has the cool taste of peppermint. We have a Cayenne and Cinnamon flavor that has some kick to it. Those that like a spicy chocolate will enjoy this flavor. Our Pumpkin Spice seasonal flavor is like a chocolate pumpkin pie. And those that want simplicity, our Original flavor is for you. Only three organic ingredients.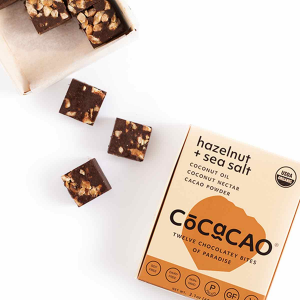 Can you talk about how Cocacao came to be? 
Ours is a story of Death, Divorce and Chocolate. After the loss of Jeff's wife and my divorce, he asked me on our first date, "Do you like chocolate and coconut?"
My answer of yes led me to not only a new marriage, but to running a company. Jeff had a health need to have a treat that would not cause inflammation and I wanted a decadent chocolate that wouldn't cause a migraine from refined sugar. For the full story,  see "Our Story" on our website.
Cocacao is vegan, paleo, gluten-free, and certified organic.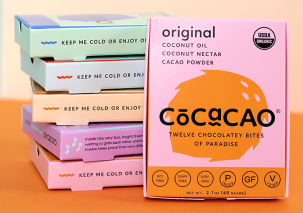 https://www.instagram.com/cocacao/
https://www.facebook.com/LOVECOCACAO
https://twitter.com/_COCACAO
https://www.linkedin.com/company/cocacao/